GROUPS OF 8 OR MORE WELCOME
Sports Club

Summer camp

School group

Works Council

Family reunion

Cousinade

Friends group
Collective tents offer excellent value for money for groups looking for an escape in the gorges of the Ardèche. Consult our rates and book your collective pitch now.
From €13 per night per person in a collective tent.
Weekly rental.
CAMPSITE OPEN TO COLLECTIVES
La Rouvière campsite is open to everyone. It's a family camp as well as a camp for groups such as schoolchildren who would like to stay there. Imagine a collective getaway in large tents equipped with beds and mattresses, in a naturally wooded setting with its own private beach… paradise on earth.
If you have the idea of camping with a group of friends, or gathering your family as a cousin for example, you will be welcome. We also welcome works councils for team-building and incentive weekends.
Summer camps and discovery classes run from March to November. If you're thinking of booking our collective tents during this period, it's best to plan ahead, as demand is high.
Although La Rouvière is able to accommodate groups, we only have collective tent sites nearby. We also welcome groups in bungalows or mobile homes on our group accommodation park.
EXCEPTIONAL LIVING ENVIRONMENT IN SOUTHERN ARDECHE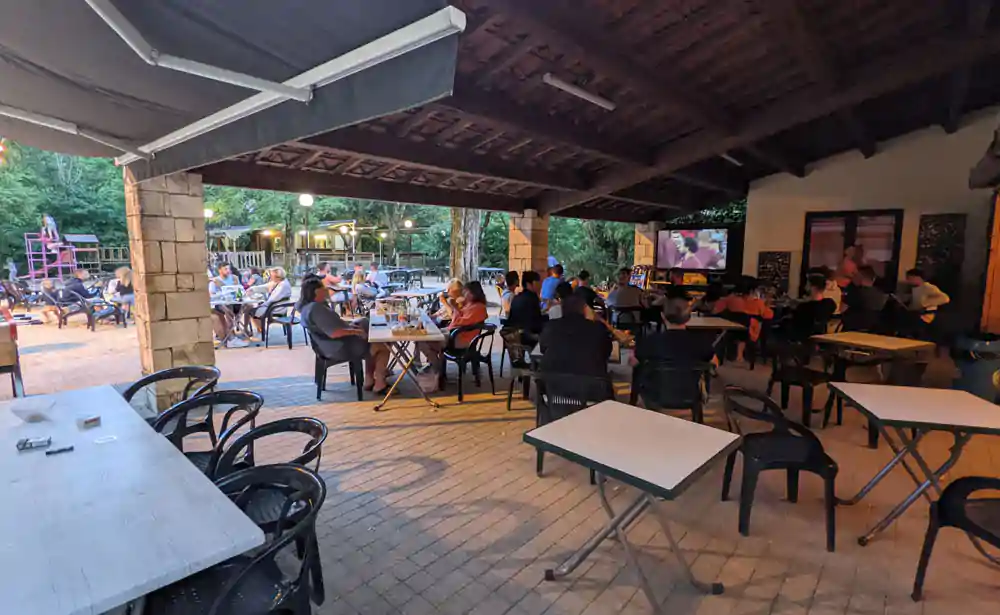 After the effort, comfort. Relaxing break over a drink at the campsite bar
We reserve a warm welcome to groups who come to stay with us. Let us know and explain your needs, we will help you prepare your organization and your logistics on site.
Most of the time, groups come as connoisseurs and come to take advantage of our proximity to the Ardèche river. The faithful collectives know our ability to meet the demand for canoes, for example. The descent of the Ardèche by canoe-kayak can be a real source of hassle, if it is not well prepared beforehand.
At La Rouvière we are used to this exercise and we want to be a real facilitator for your stay.
If you contact us well in advance, we will do our best to guarantee the necessary number of canoes and kayaks for your organization. We can also schedule shuttles and drivers according to your schedule to go back and forth and bring everyone back.
Group reception also includes organization and assistance with your logistics. Need extra beds, kitchen, gas stoves, cutlery, tables, chairs. Tell us everything. The more your needs are specific and anticipated upstream, the faster your teams and your group will benefit from the living environment upon their arrival with us.
Group reception is important to us, we do everything we can to make your stay a success.
A SECURE ENVIRONMENT ON THE CAMP
MOBILE HOMES, CANVAS BUNGALOWS, CAR PARKS
BOOK YOUR MOBILE HOMES TODAY AND ENJOY THE PROMO OF THE DAY
Catering service for groups
Like the rest of the campsite's clientele, groups benefit from the various services and services offered by the Management. Throughout the season, we call on independent caterers who come for an evening, entertain and prepare the meal.
Paella or giant couscous, Champsaur tourtons, Ardèche creek and many other culinary specialties accompany the evenings at the campsite. The caterers we work with are all passionate chefs. During their tour, they come to let us taste their local specialities.
For obvious stewardship reasons, we need to know in advance the number of people present at these meals, so that restaurateurs can cook accordingly.
star
Apart from these gastronomic events, we have our own catering service with our snack restaurant. But again, you have to anticipate demand and let us know in advance if one evening you want to order around thirty pizzas.
In general, our on-site catering capacity is large, but it's all about method and anticipation.
The La Rouvière campsite, due to its geographical location in the heart of the Ardèche gorges, is one of these rare privileged locations. We have the ambition to make your stay unique and to give you our warmest welcome.
Life on site, group accommodation, catering, canoeing, daytime entertainment… in the evening, count on us to make you let go.