CHOOSE YOUR CAMPSITE FROM THE MAP
All the places in blue are the places specially reserved for individual tents, caravans and motorhomes.
The pitches have a surface area of approximately 90 m². They offer a very pleasant living space for your stay. You have the choice of being close to the river for quicker access to the beach. Or further back to preserve your tranquility.
La Rouvière campsite is one of the Vallon Pont d'Arc campsites in Ardèche located in the middle of the gorges.
From €22 per night for 2 people
Free locations in dark blue on the map.
SHADED TENT PITCH
For your holidays or weekends in groups, with family or lovers, you can choose a pitch with a breathtaking view of the Ardèche. The campsite offers a variety of natural areas and spaces, designed to meet your every need.
A vast 4-hectare park with 153 pitches on the banks of the Ardèche, a private beach and a superb body of water, all 400m from the famous Pont d'Arc await you at the entrance to the nature reserve. You can find there, in an exceptional setting, everything you need to guarantee you an unforgettable nature camping stay. In the historic district of Chames on the road to the Gorges, La Rouvière has some pleasant surprises in store for you.
In a naturally protected green space, you can choose the location that suits you best. The geographical assets of our holiday area, its places of relaxation and conviviality, its various activities as well as its affordable prices will fully satisfy you.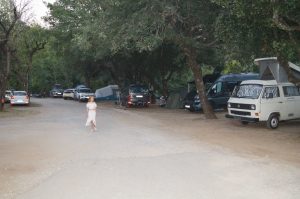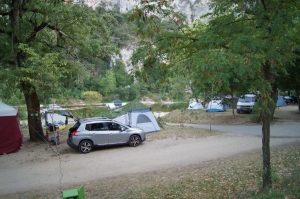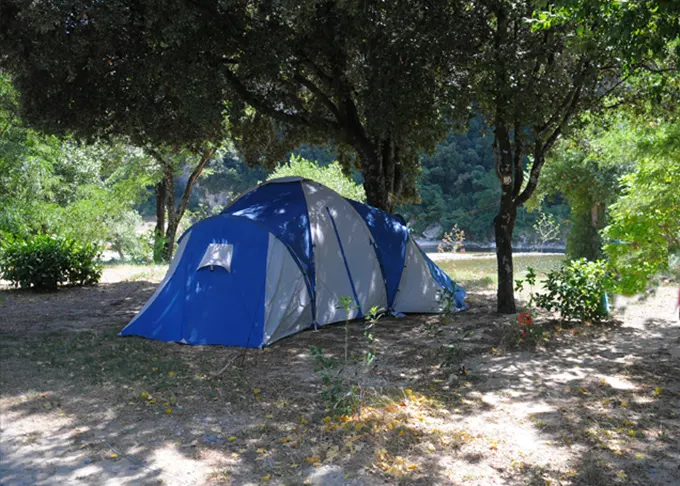 CAMPING SANITARY
La Rouvière welcomes you in southern Ardèche with more than 150 spacious and shaded pitches. In the lower area, you can find the ideal location to set up your motorhome, caravan or tent. In the upper zone reserved for 60 rentals, you can take advantage of your mobile home, bungalow or collective tent pitch which will surely satisfy you.
The new sanitary facilities, sufficient in number to avoid waiting, are also equipped with cabins for the disabled or for babies. You will be able to take advantage of your location with a superb view of the Ardèche river overhung by a cliff of about 200m made up of multicolored rocks. Do not forget your extension cord to connect to the multiple terminals equipped with standard sockets or European sockets.
LIFE ON SITE IN LA ROUVIERE
ACCESSIBLE LOCATIONS AND RATES
LOCATED SOUTH OF THE ARDECHE, THE PITCHES OFFER ATTRACTIVE PRICES
Quick and easy booking of your camping spot
For any information or estimate, do not hesitate to contact our adviser by telephone on 04.75.37.10.07 from 8.30 a.m. to 7 p.m. with a break between noon and two.
You can also make your reservation online using the form to be completed . We ask you for important information that allows us to retain your location that you have selected on the campsite map. You will specify the type of accommodation desired, the dates as well as the number of nights, adults and children who will be present at the time of the stay.
Little reminder.
Don't forget that only electric or gas barbecues are authorized on the premises (prefectural regulations). We have planchas that can be made available on request.